The Graco SnugRide 40 Click Connect infant carseat is the King of all the current SnugRide models in the Graco Kingdom. How many SnugRides there are in Graco Land? By my last count there are now 8 (Yes, EIGHT!) different "Click Connect" Graco SnugRide infant carseat models.
If you want to understand the differences between all the 2016 Graco SnugRide models – see our comparison guide here:
The SnugRide 40 is currently available in various fashions at Amazon,Babies R Us, BuyBuyBaby and other retailers. The model I have for review came with an optional newborn body support insert (only for babies less than 12 lbs.), an optional head-hugger insert and optional harness strap covers.
Extra SR40 bases for $79.99. For the record, this is no ordinary base. It has innovative features that you won't find on any other infant carseat. I'm not easily impressed but I think the SnugRide 40 base is very cool. It has 8 recline positions that should allow you to achieve a proper recline position in any vehicle regardless of how sloped or how flat the seating position is. Also, as you move up in base recline positions (position #1 is the most reclined; position #8 is the most upright), the carrier moves away from the vehicle seat bight and creates more leg room for the older baby or toddler. It's quite ingenious! The kick-plate/vehicle seat protector is purely optional and slides down to store in the base when you don't want it or need it.
Stroller Compatibility: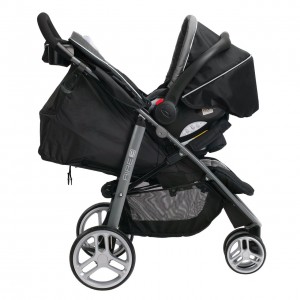 Click Connect SnugRide infant carseats are compatible with all Graco Click Connect strollers.  Just as the name implies – the car seat clicks securely into the compatible Graco stroller to create a "travel system". The Graco SnugRider Elite is a great option if you want a lightweight snap-n-go type product.
If you need a double stroller that can accommodate one or two SnugRide click connect infant carseats, the Graco Ready2grow Click Connect LX and the Graco Fastaction Fold Duo Click Connect can both get the job done nicely.
SnugRide 40 Specs & Features:
Rear-facing only: 4-40 lbs, 35″ or less and top of child's head at least 1″ below top of headrest
No-rethread harness (15 height positions)
2 crotch strap/buckle position
Energy-absorbing EPS foam lines entire headrest and sides of shell
Unique legroom extension feature on base (8 positions)
Lock-off on base for installations using seatbelt
Can be installed without base
FAA approved for use in an airplane
7 year lifespan before expiration
The SnugRide 40 has all the important bases covered when it comes to features. In addition to everything mentioned above, it has the following convenience features:
Easy to attach and remove carrier from base
Handle can be in any locked position while in the vehicle
Generous canopy
Thick harness straps aren't likely to twist
Adjustable crotch strap length for smaller babies and preemies
Click Connect technology provides one-step secure attachment to all Graco Click Connect strollers
Machine washable cover (wash separately in cold water, delicate cycle, mild detergent – drip dry)
How to shorten the crotch strap length for smaller newborns: Start with the crotch strap in the inner-most position; take the metal anchor from the back of the shell and route it up into the opening for the 2nd buckle/crotch strap position.
SR40 Measurements:
Lowest harness slot height with lower body insert: 7″
Tallest harness height setting: 12″
Crotch strap/buckle positions: 4.5″ and 6″
Internal shell height when head rest fully extended: 21″
Width of base at beltpath: 9.5″″
Width of base at widest point: 14.5″
Width of carrier at widest point: 18″
Carrier weight: 10.0 lbs (according to my digital bathroom scale)
Fit-to-Child Comments:
The low bottom harness slots combined with the inner buckle position and the adjustable crotch strap length help this new SR40 model fit the vast majority of newborns and even preemies very well.
The lower body support insert is optional but probably helpful for smaller newborns. Discontinue use of the lower body insert once the baby weighs 12 lbs. The separate head-hugger insert isn't required and really isn't necessary either. Actually, I found that it pushed the newborn doll's head forward more than anything else. I would recommend not using that optional head support insert unless you really had some compelling reason to use it. The harness strap covers are purely optional and remove quickly and easily because they have Velcro on one side. For what it's worth, I almost always remove the harness strap covers on a newborn (if they're optional) because they just tend to get in the way more than anything else.
4 lbs., 17″ preemie doll with crotch strap length shortened (body insert used, head-hugger insert and harness strap covers removed):
Tip: In order to lower the headrest all the way you will need to fold back the flap that goes behind baby. If you don't fold it back and tuck it under it may prevent you from moving the headrest all the way down to the lower height settings.
20″ Newborn-Sized Doll: No inserts needed; crotch strap not shortened
Petite 2.5 year-old: In these pics she is 30 mos, 26 lbs and 32″ tall. Even though she's far from the 40 lbs. max weight limit and 3 inches shorter than the 35″ stated height limit – she has maxed out this seat by height. As you can see from the 2nd pic below, she only has about 1″ of the headrest left above her head.
Installation Comments:
If you read and follow the instruction manual – the SR40 is generally easy to install properly regardless of whether you are using your vehicle's lower LATCH anchors or the seatbelt. FYI – only use one method of attachment. Do not install the base with both LATCH & seatbelt.
Finding the correct recline angle in your vehicle: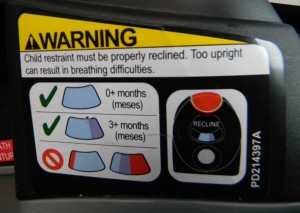 Recline position #1 is the most reclined position on the base. Recline position #8 is the most upright position on the base. You can use any recline position as long as you achieve an appropriate recline angle for your child. The setting you need will depend on the slope of your vehicle seat cushion. Vehicle seats that are very flat will require a different recline setting than vehicle seats that are very sloped. For a newborn you want the most reclined position you can achieve without seeing any orange in the indicator window. If you start off in recline position #1 and see a sliver of orange in the indicator window then try position #2 or #3. If installing for a newborn you only want to see light blue in the window. If you see any dark blue in the window, the seat is too upright for a newborn and you need to adjust the recline position. For older babies and toddlers with good head and neck control the angle can be adjusted so the child sits more upright. Most older babies and toddlers prefer a more upright position.
Base installation using lower LATCH anchors:
The SR40 has basic, hook-style lower LATCH anchor connectors. To install the base using the LATCH connectors – make sure the base is in recline position #1 before you begin the installation. After connecting the hooks to the lower anchors in your vehicles, check that the LATCH strap isn't twisted and route the loose tail end of the LATCH strap back through the belt path into the center of the base before pulling to tighten.
Installing the SR40 in the center seating position of your backseat using LATCH: use of lower LATCH anchors in the center seating position with non-standard spacing (more than 11″ apart) is allowed only if your vehicle owner's manual specifically allows it. If your vehicle manufacturer doesn't allow a LATCH installation in the center seating position then install the base with the seatbelt instead. Seatbelt installations are just as safe and just as easy with this base.
Base installation using seatbelt: 
The SR40 base can be installed quickly and easily with a seatbelt thanks to the sturdy lock-off device.  Make sure the base is in recline position #1 before you begin the installation. If the base is set in any other recline position it will block your access to the lock-off that you need. Using the lock-off is required if installing this base with seatbelt. See the video below for my installation techniques that will help you to install the SR40 base quickly and properly with either LATCH or seatbelt.
Inflatable Seat Belts
Graco has determined that the SnugRide 40 cannot be installed with inflatable seat belts found in some Ford, Lincoln, and Mercedes vehicles, and in some airplane seat belts. Install the base using the LATCH strap instead.
However, Graco DOES allow the carrier only to be installed without the base using Ford Motor Company inflatable seat belts. Follow your instruction manual and do not thread the shoulder belt through the belt path.
Installation without the base:
The SnugRide 40 can also be installed safely without the base. The carrier is secured directly to the vehicle with the seatbelt. This is very handy if you're traveling by taxi or airplane. No need to lug the base around with you! However, you have to know how to lock the seatbelt in the vehicle that you're going to be in because there is no lock-off on the carrier itself. On an airplane it's easy because you have a lap-only belt with a nice locking latchplate. All you do is thread the seatbelt through the guides and pull it tight. Easy peasy!
A taxi is a little more complicated because you will have a lap/shoulder seatbelt that you will need to use to install the carrier. In my vehicle (pictured below and also used in the installation video), the lap/shoulder belt has a switchable retractor which I use to lock the seatbelt so the carseat stays installed tightly and cannot wiggle loose. Not all vehicle seatbelts have switchable retractors but most do.
When the lap/shoulder belt is routed correctly – it will look like this:
Installation Issues:
The SR40 base is very long, approximately 21″ long . It's longer than any other Graco infant seat base. Due to its length, it may not be compatible with vehicle backseats that are shallow from back to front. According to Graco, the "80% rule" applies to this and all other Graco infant seat bases. The 80% rule means that at least 80% of the base or "footprint" of the restraint must be supported by the vehicle seat cushion. In other words, you can't have more than 20% of the base hanging over the edge of the vehicle seat. I measured the base at 21″ which means that no more than 4″ of base should hang over the edge of the seat cushion. In my 2005 Ford Freestar captain's chair there was 3″ of overhang – which is acceptable. In my neighbor's 2010 Jeep Wrangler Unlimted (4 dr) there was 5″ of overhang, which is too much.
The legroom extension feature on the base is awesome but unfortunately it makes the carrier take up more backseat room. Even though the carrier becomes more upright as you increase the leg room for the child, it still takes up more space in the process. The difference between recline position #1 and recline position #8 is about 2.5 – 3″ of additional space. This may not be an issue if you're short and/or drive a spacious vehicle with lots of backseat legroom. But in a smaller vehicle this could be an issue. The best advice is always "try before you buy".
The release button on the LATCH strap is very stiff and it's difficult to get the mechanism to release the webbing so you can unhook the LATCH connectors from the lower anchor bars in your vehicle.
Lock-off is not fingernail friendly. I don't know if you noticed in my installation video above but it takes some effort to pop the lock-off open. That's not necessarily a terrible thing but if you don't want to chance breaking a nail then you might want to use a butter knife to pop it open.
Lock-off can be a little tricky. You may think it's clamped shut properly when it actually isn't. Check out this very short video:
SnugRide 40 Advantages:
Fits a wide range of baby sizes
Extended usage thanks to a larger-than-average carrier combined with generous weight & height limits
Easy to install properly with base (seatbelt or LATCH installation)
Center LATCH installation with non-standard spacing allowed as long as vehicle manufacturer specifically allows
Lock-off for quick and easy seatbelt installation
Innovative base with unique features
Best-in-class leg room of any rear-facing only infant carseat
Easy to use correctly
No-rethread harness with 15 height positions
Energy-absorbing EPS foam lines sides of shell and adjustable head support
Generous canopy
Cover is machine washable – cold water, delicate cycle, no bleach, drip dry
Quick and secure attachment to all Graco "Click Connect" strollers
SnugRide 40 Disadvantages:  (In all fairness, these aren't necessarily problems but I list them here to inform potential consumers of specific SR40 issues)
Can take up a lot of real estate in the back seat – especially when extended for more child legroom
Base is longer than other Graco infant bases and may not be compatible with vehicles that have shallow backseat cushions
Unrealistic weight and height limits – most kids will outgrow by 1″ rule, before 35″ tall and well before hitting 40 lbs
Lacks premium push-on LATCH connectors
Carrier isn't lightweight but 10 lbs. is reasonable for such a large infant seat
Harness straps can't be removed or replaced because of the way the no-rethread harness is designed and attached
Not compatible with older Graco strollers
Made in China – but to be fair, so are most other infant carseats
The Bottom Line: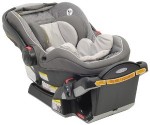 The SnugRide 40 is marketed as a rear-facing seat that will accommodate your child from birth to age 2.  This is a great concept since the American Academy of Pediatrics (AAP) recommends that all children ride rear-facing until at least their 2nd birthday. However, while this model does boast the highest rear-facing weight and height limits of any infant seat on the market that doesn't guarantee that your child will fit in this seat until he or she reaches their second birthday. If you consider the fact that most kids don't weigh 40 lbs. until they are 3 or 4 years old, the reality is that your child will outgrow this seat by height long before reaching the maximum weight limit. However, just because the weight limit (and to some extent the 35″ stated height limit) is unrealistic doesn't mean this isn't a great seat with some impressive features. The SnugRide 40 offers a lot of great safety and convenience features as well as some unique features that you won't find on any other infant carseat. For these reasons, it has earned a coveted spot on our Recommended Carseats list.
Just keep in mind that this is not a compact infant seat. If you drive a smaller vehicle and/or if you're tall and need lots of leg room up front – please make sure you try before you buy! Actually, that's our standard sage advice for any carseat purchase. If try before you buy isn't possible – at the very least hold onto the box and the receipt until you're sure this seat is going to fit in your vehicle.
The Graco SnugRide 40 Click Connect is on our updated list of Recommended Carseats! Since it fits preemie and low birthweight babies well, the SR40 is also on our separate list of Recommended Infant Carseats for Preemies & Multiples.
Thank you Graco for generously supplying the SnugRide 40 for this review. No other compensation was provided. All opinions expressed are those of CarseatBlog.