The Vue features a huge canopy, which is always a benefit. Oh, and did we mention that the seat can lie flat?
It comes with a carry bag, and there will be a cold-weather muff for purchase separately.
All that in an umbrella stroller!
How much would you expect to pay for a stroller that does all this? We were thinking $350 or more. But no, all this can be yours for the low, low price of just $199! The Vue should be available in March, and will come in black, brown, cream, red, and purple. Even those of us without small children can't wait to get our hands on one.
New 2014 fashions for City Mini GT
Recaro is coming out with a nice stroller called the Urbanlife.
The child tray folds down to reveal the car seat adaptor, which can be used with Recaro infant seats. The child tray/adapter can be removed easily when not needed. The stroller also features an impressive canopy.
The stroller comes with a parent's cup holder as well. The best part might be its pedicure/flip-flop-friendly brake release. (I practically live in flip-flops and can't tell you how many times I've hurt my foot trying to release stroller brakes. I'm sure some of you can sympathize.)
Recaro is looking at a second-quarter 2014 release, and the stroller will retail for about $250.
Lightweight (17 lbs), 1-handed quick fold was very cool, retails for $249, available in red, yellow, blue, red, and striped.
Urbo2 Stroller (including Special Edition Donna Wilson Fox Fashion) $579; $599 for Special Edition
Jané is the premier stroller company in Spain. They had some strollers and some great boosters too (anyone remember the Jané Indy and Indy Plus Boosters?) here in the US about 10 years ago but they pulled out of the US market for various reasons. The first Jané strollers available on this side of the pond (this time), will be the Nanuq (compact; $250), Rider (4 wheeler; $750) & Trider Extreme (3-wheeler; $790).
Kecia nearly fainted when she learned the PowerTwin will be returning to the US. I wasn't familiar with it until I saw it at the show, but it looked like a twin-stroller SUV. This stroller means serious business!
For the US market, they'll be making the "PowerTwin Pro". The seatback will be taller, the footrest larger, and the basket larger. In other words – it will be "Americanized". Look for it next spring for about $650.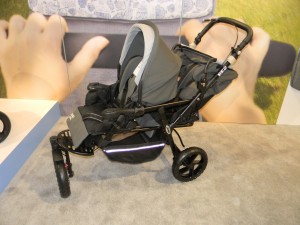 Happy Kidz
Happy Kidz is a company we hadn't heard of before, but their Kid-Sit was a finalist for the JPMA Parent's Pick award, so we stopped by to take a look. The Kid-Sit isn't a stroller, but an accessory. It's like a buggy board, but it allows kids to sit down while tagging along. The Kid-Sit easily flips out of the way and secures when not needed.
The Kid Sit can be secured to any stroller with a straight axle along the back, and an adaptor is available for strollers without one.
I pushed around a Quinny with the Kid Sit attached, and found it pretty easy to maneuver. I did kick it a couple times, but that's not an uncommon problem when hooking something to the back of a stroller.
The Kid-Sit will be available for about $129, comes in gray or orange, and will hold children up to 40 lbs.
Britax
New luxury stroller. 100% customizable. Accepts infant carseat to use as a travel system. Available Spring 2014. $599