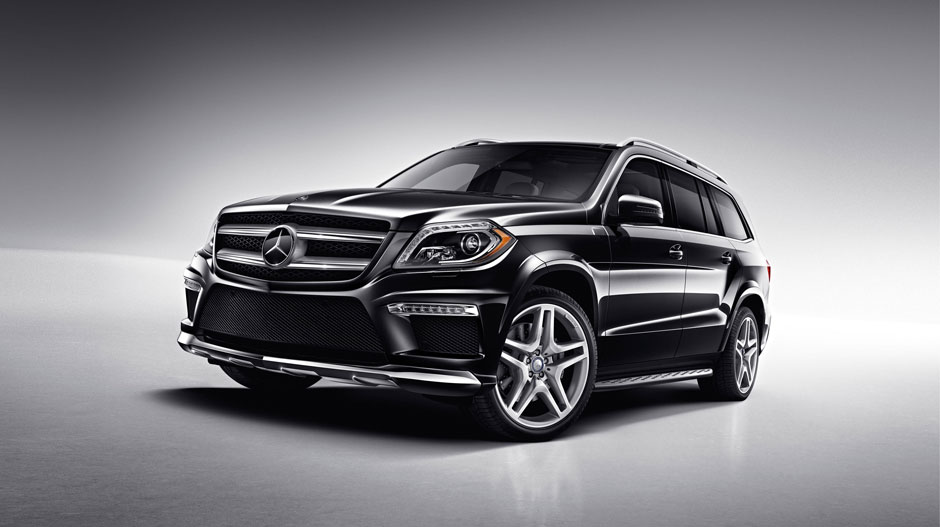 Rather than bore you with a wall of text, this review of the 2013 Mercedes Benz GL450 4Matic will be primarily a video and photo review.  As usual, there will be an emphasis on seating kids, vehicle safety and carseat compatibility.  The GL-Class was updated for 2013, with the main improvement for families being slightly more interior space.  There were also updated powertrains, a revised dashboard and console design, exterior styling refinements and the addition of some advanced safety features.  Unfortunately, the Driver Assistance Package with DISTRONIC PLUS, Blind Spot and Lane Keep Assist adds almost $3,000 to the $64,000 base price.  My loaded 4Matic model with just about everything was an eye-popping $96,610 sticker price, but expect the street price of the more fuel-efficient GL350 BlueTEC to be well under $70,000, even with the Driver Assistance Package.
The second row is wider than any midsize SUV I've tested, and most of the smaller full-size SUVs as well. The middle seat is wide enough for narrower carseats and there is no funky crossover of seatbelts and LATCH anchors! It's not adjustable for legroom, but does provide a good amount of space as it is.  There are also plenty of cupholders and spaces for storage.
It doesn't stop there.  The third row is beautiful for kids and smaller adults.  There is decent legroom, enough for rear-facing carseats and kids using a seatbelt as well.  More importantly, there is adequate thigh support for teens and shorter adults, unlike many third row seats in midsize and small fullsize SUVs.  I have to chuckle when I read reviews from major publications that triumphantly claim how various midsize SUVs have a third row seat that is comfortable for adults, yet my 12-year old daughter could not sit comfortably there for anything but a short trip around town.  It's like they read the press release, but don't even take the time to climb back there!  At 5'10" tall, even I could tolerate a ride in the 3rd row of the GL-class.  It's not as comfortable as most minivan 3rd row seats, but would be fine for anything but a long road trip.  Plus, both seats in the third row have LATCH and it's very easy to find and use.
Also better than most SUVs we've tested is the cargo space behind the third row. Check it out!
How about safety? Well, unfortunately, like most full size and luxury SUVs, there are no crash test results from the IIHS and NHTSA.  Visibility is better than most large SUVs overall,  but still poor out the back window.  Fortunately, a great standard backup camera mitigates this.  Despite the bold Mercedes emblem that inspires performance, this is a big truck, and it handles like one, too.  Fortunately, it does have, standard or optional, almost every advanced crash avoidance and other safety feature you could possibly want. Including this:
Yes, it's an awesome vehicle. Definitely the sweetest SUV I've reviewed!  The ride is very smooth and quiet, perhaps the best I've tested.  The interior is very comfortable for 7 passengers, provided those in the third row aren't too tall, of course.  No issues pairing or using my Android phone for calls or streaming audio.  The climb-in height better than most large SUVs, but likely a little more difficult for smaller kids than a midsize crossover.  So what's not to like? Only some minor quibbles for the most part…
But does this thing slay other urban transport? Can it power past most other SUVs from a stoplight? Can it tow 7,500 pounds? Can it rip through fields and streams with the 4Matic system? Yes, Yes, Yes and YES!  That last point I was even able to put to the test:
And last, but not least, a few photos.  Below, left, a three-across setup using a Graco Snugride 30 infant seat, a rear-facing Diono Radian and a Britax Frontier SICT.  Below, right, a side-by-side with a Recaro ProSport next to a BubbleBum booster that works nicely in the middle as well:
Above, left, the spacious 3rd row is wide enough for two average adults, or two large combination carseats, like the Recaro ProSport and Britax Frontier SICT.  In the middle, the lower LATCH anchors are super easy to find and use, making it easy even for models with simple hook attachements, like the Graco Connext Booster.  Above, right, the generous cargo capacity behind the third row.
Pros:
Relatively wide second row bench for 3-across
No seatbelt/LATCH crossover
Shoulder belts and good head restraints in every seat
Four full LATCH seating positions + tether
Easy to access LATCH anchors
Super easy push-button access to third row (optional)
B&O sound system is great
Beautiful styling, inside and out
Very quiet and comfortable interior
Plenty of power, 4WD and towing capability
3rd row can legitimately seat two average or smaller adults
Fantastic seats heated in first and second rows, cooled in front.
Cons:
No crash test results from NHTSA or IIHS

Very expensive, some advanced safety features cost even more
Second Row Seats do not move fore/aft
Protruding 2nd row monitors
Head restraints do not appear to be removable
Non-adjustable shoulder belts in rear seats
Numb, truck-like handling; typical for vehicle this size
Rear-facing tethering can be difficult in 2nd row
Poor fuel economy
Quirks: Funky parking brake, no touch-screen, transmission slow to downshift sometimes creating delays to accelerate, no third row sunshade, rear-view camera was sometimes slow to activate and was not automatic if the entertainment system is off.
Sounds like a lot of cons for such a high end vehicle?  Perhaps, but other than the lack of crash tests, they are all minor issues for most prospective buyers.  I provide them only to be complete for buyers who may be interested in such details;-)   To be honest, in terms of seating a 3, 4 or even 5 young children in carseats, I rank it right up there with the best of the smaller full-size and midsize SUVs.  For a more affordable model, it's difficult
to compare to the Honda Pilot or Odyssey for larger families, but in the larger and luxury class of SUVs, the GL-Class goes even a step beyond the Infiniti JX35 we reviewed previously.  The natural competition, however, is the slightly smaller Audi Q7, which we have not yet reviewed.  Perhaps not surprisingly, the GL450 4Matic is my personal favorite of all the numerous SUVs I've tested over the past few years, both for kids and overall.  The only real drawback for me is the fuel economy, so my preference is for the GL350 BlueTEC that will also save you a little money while giving you 19mpg city and 26mpg higway EPA ratings.  It also retains the 7,500 pound towing capability.  Either way, you'll have perhaps the ultimate road warrior available today.
I'd even replace my beloved Highlander Hybrid with a GL350 Bluetec, and I can't say that about any other SUV I've tested so far.  If only Mercedes Benz would make it happen!  Thank you to Mercedes Benz USA for providing the GL450 loan used for this review.