I got off to a rocky start with the 2013 Nissan Pathfinder I recently test-drove for a week, but in all fairness, it wasn't really the car's fault.
See, it has one of those push-button ignitions, and when I went to take it for a spin, I guess I didn't notice that the car wasn't completely on. I had just gotten done selecting my radio station and connecting my phone via Bluetooth. Then I threw the car into reverse and started backing down my driveway. I soon realized that the car seemed sluggish, and it was hard to turn.
Finally, just as the car finished inching out of my driveway, it stopped and wouldn't move anymore, no matter what I tried. In a panic, I called my husband (using my freshly paired phone and the car's speakers). Even though the Pathfinder was now blocking my entire street and I had visions of someone plowing into this borrowed car, I did see the humor in the situation, and I half-laughed, half-cried to my husband, "The car is stuck! I need your help!"
It turns out my husband had been watching me from the window the whole time and couldn't figure out why I had parked the car in the middle of the street. He came out, got in the car, started it up, and had it back in the driveway three seconds later.
"How did you do that?!" I demanded.
"You have to step on the brake while you press the button. Didn't you notice the engine wasn't on?"
"I thought it was just really quiet," I answered sheepishly. In my defense, the last car I drove with a push-button ignition was a Prius, which is silent. "How did I get down the driveway, though?"
"Gravity?"
And so began my week. My husband was worried about letting me drive alone after that, but I assured him I'd be fine.
Despite the rough start, so to speak, I soon fell in love with the Pathfinder, as did the rest of the family.
I had the Platinum edition, which comes fully loaded with leather, navigation, DVD, heated and cooled seats, heated steering wheel, etc. Obviously all that luxury helped a lot. But even without all the extras, we were very impressed with the Pathfinder, both in terms of driving and easily seating the kids.
The 2013 Pathfinder is redesigned, with a sleeker exterior and roomier interior. It's less truck-like but still big enough for most people's needs, and it gets better fuel mileage than the previous incarnation. It boasts a 5-star rating for side impacts, with 4-star ratings for frontal and rollover.  The overall average from Safercar.gov is a 4-star crash rating.  The IIHS has not yet completed its testing.  So far, the 2013 Pathfinder has received the top "Good" ratings in both the moderate overlap frontal crash test and the IIHS side impact test.
DRIVING
You know how some people know a lot about wine, and they say things like, "This one is fruity, with oaky undertones"? I don't know anything about wine, so I say things like, "Yeah, I like that," or "Oh my god! It burns!!! It burns!!!"
You'll have to forgive that I'm like that with cars, too. I'm not a car-person in the sense that I can discuss "suspension damping" or "throttle response" (I had to go read some Edmunds reviews just to come up with those terms). So how was the Pathfinder to drive? I liked it. (And it didn't burn.)
To try to give a bit more description: I was nervous at first because it felt big, even though it's comparable in size to the Honda Odyssey I drive now, and the Honda Pilot I drove previously. It handled very nicely, though, and I soon found I loved driving it. It had smooth, quick acceleration from a stop, and handled turns great. I discovered, upon having to make a u-turn on a narrow Chicago street, that it has a nice, tight turn radius.
The drive was very quiet, especially compared to the not-so-quiet Odyssey. I also found the brakes to be nice and responsive. (The Edmunds review described the brakes as "spongy." Not being a wine/car person, I wasn't quite sure what that meant, but I didn't experience anything I'd describe as sponginess. The day after I got the car, though, Nissan issued a recall for a brake issue on some Pathfinders, so maybe they got a dud?)
According to the car's control panel, my gas mileage for the week was around 22 mpg, which is the combined city/highway fuel mileage estimated for the vehicle. I drove 207 miles and used about half a tank of gas. Not bad.
PARKING
I wouldn't normally include a section on parking, because…why? But this truly deserves its own section.
Confession: I'm a good driver, but a terrible parker. I'm not just talking parallel parking: I mean ANY parking. I always wind up too far over to one side or another, and I'm NEVER straight. It's pretty embarrassing.
Anyway, when I was sitting there at a stop light on my virgin trip, I noticed a "camera" button and decided to push it. In Heather's review of the Tesla S, she mentioned you could see out of the backup camera while driving, so I thought that might be the case here, too. Turns out that's not quite what it did, but it might be even cooler. When I pressed the camera button, the screen changed to show the view from a forward camera and also a "birds-eye view" of the car that showed what was behind, in front of, and on both sides. Perfect for parking? Yes, especially for someone with such meager parking skills.
Once I started going above a couple miles per hour, the camera view turned off, but I turned it back on when I got to the parking lot at the grocery store. As I turned into my spot, the "overhead" camera showed me the lines in the pavement and also showed computerized lines marking the direction of my front wheels.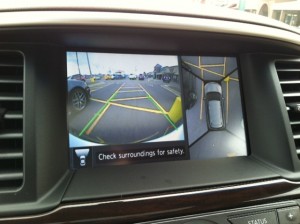 Using these tools, I effortlessly parked PERFECTLY, possibly for the first time in my life.
My car also came equipped with sensors that beep when you have obstacles (including people) behind you while you're in reverse. Very handy, and a great safety feature for keeping kids safe around cars. Nissan calls this the "Around View Monitor System with Camera Aided Sonar." I guess that describes it pretty well.
CAR SEATS
Overall, the Pathfinder was great for transporting kids. Typically, I much prefer minivans over SUVs for transporting more than two kids, mainly because of third-row access issues, but if I had to own an SUV, the Pathfinder would be high on my list specifically because of the great third-row access.
The Pathfinder has a feature that allows the second-row seats to fold slightly forward and move up, even with a child seat installed! Best of all, it's easy enough for my child to do. (I've found a lot of second-row seats rather difficult to move, even for an adult).
There are limitations to this. It works great with infant seat bases and forward-facing seats. Rear-facing convertibles don't allow the seat to move forward enough to access the third row. Also, the seat/base needs to be installed with LATCH. A locked seatbelt wouldn't allow the seat to move and would block the third-row access anyway.
I tried a variety of seats in various positions in the car, and had very little trouble with any of them. I did need to remove the second-row outboard headrest for some forward-facing installs, but the non-removable third-row headrests played nicely with a forward-facing Graco Size4Me, Recaro ProSport, and Britax Frontier 85, plus the high-back Diono Monterey.
Here's the ProSport installed in the third-row:
In the second-row outboard seats, a forward-facing Size4Me, Britax Boulevard 70, SafeGuard/Safety 1st Hybrid Go, and ProSport worked just fine.
Rear-facing, the Size4Me, Graco SnugRide 30, and Diono Radian RXT installed easily and fit well. Even without the optional Diono angle adjuster, the rear-facing Radian left plenty of room for the driver and passenger.
I was even able to get a rear-facing Size4Me installed in the third row.
The only place I had some trouble was the center seat in the second row. It's narrow, and the contours are a bit weird.
I was unable to get an acceptable install with a Combi Coccoro, and I had to work really hard to get a marginally acceptable install of the Radian rear-facing. Forward-facing, however, the Radian worked beautifully, like they were built for each other.
(It looks like the Radian is sitting on the outboard seatbelt buckle, but it's not.)
Getting three-across in the second row is possible, but you need the right combination of seats due to the small center position. Here's a Safeguard Go, rear-facing Radian, and a rear-facing Coccoro.
The second-row outboard seats both have full sets of LATCH, although the anchors are fairly deep into the bight and sometimes took a bit of work to access.
There are tether anchors for all three second-row seats and the third-row passenger side. I like that the second-row tether anchors are mid-way down the seatback rather than all the way at the bottom, making them easier to reach.
The third-row headrests are not removable, and because of the way they flip, you also can't route a tether under them. The manual shows that you should instead run the tether strap around the outboard side of the headrest. A little weird, but at least they address it.
The manual says you can remove or raise the second-row outboard seats as necessary. The manual also prohibits things from touching, pushing on, or pulling on the front seat, so keep that in mind when installing rear-facing seats.
COMFORT, ETC.
As I mentioned, I had the Platinum trim, which includes leather, navigation, DVD (screens in the back of both front-seat headrests), heated steering wheel, heated and cooled seats, power everything, and lots of other goodies. It's a Nissan, but at that trim level, the Pathfinder looked and felt like a luxury car.
The front seats are fully adjustable and quite comfortable. I'm 5'3″ and my husband is 5'10", and we had no complaints about the seats or seatbelt fit. Obviously we can't speak for taller people, but it didn't feel cramped at all. Although I didn't spend any time riding around in the back, both the second and third row seem comfy, too.  The third row (which only seats two, by the way) would work for an adult, although it doesn't lend the legroom a minivan usually does. For an SUV, though, it's probably among the best you'll find.
Visibility was decent for a three-row vehicle. Obviously it was better with the third-row headrests folded down, but even with them up, I felt I could see out the back well enough.
The Pathfinder has just under 80 cubic feet of cargo space, which is similar to the Honda Pilot and Ford Explorer. With the third row in use, I was able to comfortably fit all my groceries or a BOB Revolution SE. I probably could have fit my groceries and the stroller, but I didn't try.
With the third row folded down, there's a ton of room.
The kids loved the built-in DVD player, which we don't have in our everyday vehicle. I found the navigation system to be somewhat better (easier to use, gave good directions) than average. There was also a feature that gives weather alerts, which startled me a bit at first when a disembodied voice suddenly announced a flash flood warning. It's a great feature to have, though!
CONCLUSION
Pros
Lots of room
Drives nicely
Car seat-friendly
Easy third-row access
"Overhead" parking camera
Lots of luxuries in the Platinum trim
Cons
Buried LATCH anchors

Center seat in second row can be tricky for car seats
As you can see, I found lots of pluses and very few minuses about the 2013 Nissan Pathfinder. In my opinion, it's a great midsize SUV for families, and should offer competition for other popular models like the Honda Pilot and Ford Explorer. We really enjoyed our week with the Pathfinder and were sad to see it go at the end of my review period. I considered escaping to Mexico with it, but I knew CarseatBlog would be on the hook if I took off, and I didn't want to deny anyone vehicle reviews in the future. If we find ourselves in the market for an SUV soon (which we very well might), the Pathfinder will definitely be on the list of contenders.
MSRP on the 2013 Nissan Pathfinder starts at $28,650 for the basic model, up to $44,395 for fully-loaded.  The Pathfinder is similar to the Infiniti JX we reviewed earlier.  Thank you to Nissan USA for the loan of the 2013 Pathfinder used in this review.