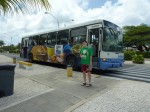 It's spring break here.  I'm technically on vacation.  Of course, vacation almost always has wifi these days, so I'm getting in a quick blog!
In December, my wife said she wanted to be someplace warm with a nice, sandy beach. Maybe an island with one of those all-inclusive family resorts.  Preferably some place with a reef for snorkeling.  Not one of those seaweed-ridden beaches or rock strewn muddy accesses to the water that some places describe as a "pristine beach".  As family vacation planner, I looked around.  Key West was a contender, but it's not well known for beautiful sandy beaches and it's not a guarantee of warm weather in March.  Plus, airfares to Miami were unusually high, probably from the college crowd looking for the same thing.  San Diego wasn't any cheaper.  Hawaii was even more expensive and getting to be a very long flight from Chicago.
I checked Mexico and the Caribbean next.  Along with my wife's requirements, my main requirements for travel with kids are a non-stop flight and some type of room or suite with at least 4 beds (including a sofabed or rollaway).  Those are pretty easy to find in the USA.  We stay at Homewood Suites, Residence Inns, Staybridge and others quite a bit on road trips.  Such rooms aren't all that easy to find outside the USA, making it more difficult for families with spoiled kids (and dads), like our family.  In addition, non-stops aren't all that common from Chicago to the Caribbean, perhaps only a dozen destinations.  Cheap non-stops and cheap suites were even harder to find, as many flights and rooms were already booked.  Most of those great all-inclusive family resorts were quickly eliminated due to flights with 1 or 2 connections, less than ideal rooms or stupid-high prices.  With a few exceptions, most of the islands required connections and the few with Chicago non-stops were approaching $1000 roundtrip.  So much for that!
The list narrowed down quickly.  If only we had decided on a spring break vacation months earlier!  American had a relatively cheap flight to Cozumel with 5 low fare seats.  I found a place that wasn't too expensive.  It was a loft kitchenette with 2 beds in the loft and a queen bed on the main floor and a rollaway was available.  Not ideal, but workable.  Problem was, the place had beautiful water access, but it was rocky access right into the awesome reef with no real beach.  They did offer beach access a short bus trip away.  We visited Cancun before we had kids.  It was kind of touristy.  We also had the misfortune of hitting a late tropical depression that forced our Cozumel scuba trip to be cancelled.  It wasn't the greatest trip destination, but Cozumel did look pretty cool.  On the other hand, American had literally just declared bankruptcy.  I was a little concerned about having flights eliminated over the coming months.
The other option with relatively cheap non-stop airfare from Chicago was Aruba on United.  We had been to Aruba, too.  We went to see a total eclipse there almost 15 years ago.  We're told the reefs were great for scuba, but we never found out because DW learned she was pregnant before the trip (nevermind the local legends about being exposed to an eclipse while pregnant!).  Otherwise, it was a nice place, but not nearly as exotic as the tropical image its name conjures.  It was rather touristy and a little beaten down 15 years ago, so I envisioned it not being much different today (and it's not).  On the plus side, it's well known for awesome beaches.  I found a place at the end of Eagle Beach, rated among the best beaches in the world.  Two bedrooms, 3 beds plus sofabed.  Great reviews on Trip Advisor.  With that, we decided to go back to Aruba, despite the 5-hour flight with the kids (that turned out to be pretty easy).  The roughest part of the travel day turned out to be the immigration line.  It was awful.  As we've noted in our travels outside the USA in the past, the concept of a line is often a mere suggestion, as is the case in Aruba.
So, here I am, on our hotel room deck.  I just got back from the awesome beach that easily lived up to expectations.  The very nice hotel has a great little bar and beach access right across the street.  Kecia will be proud of me, I had my first margarita before noon!  Then, I lounged with the other two kids while reading my book "Ready Player One", something recommended by a friend.  DS1 is allergic to water immersion, so he sat next to me, reading a school assignment.  Meanwhile, DD got a tan and DW took our DS2 into the ocean. As I sat there on the beach reading my book on my Kindle and being amused by all the references right out of my teenage years, the irony that I was an authentic 1980s computer geek was not lost upon me.   And now here I am blogging about it.  Lolz!
So what's all this have to do with car crashes?  Well, nothing really.  But I'll tell you one thing about Aruba you might not envision.  Traffic.  Lots of it.  Lots of older, smaller cars.  Lots of dangerous intersections.  I brought a Bubble Bum for 6-year old DS, but haven't used it.  We opted to avoid car crashes altogether.  How?  We're using public transport on this trip.  The DePalm Tours airport transfer (think Mears airport bus) was great and the Arubus city buses stop right out front of our hotel and go everywhere you'd want to go for just over two bucks round trip.  We didn't bother to rent a car.  As the airport bus driver joked, the island has a population of 120,000 people and has almost that number of cars.  They're all on the main roads, too.  If only people would take public transportation.
Sometimes, having a car really doesn't buy you much freedom.  Plus, depending on the car and where you are driving, it's not all that safe, either.  These days, my "job" pretty much is based on the auto industry.  Even so, I can't help but think that cars are inherently bad in many ways.  I sure like driving them, but is it really worth the cost to the environment, to world political struggles, or to all those who die in traffic crashes each year?  Well, this beach is really pretty.  I hope it's still here and my kids can visit it with their children decades from now.  I suppose it will too expensive to fly there and the beach will be marred with oil wells, sucking the last remnants of dino fuel out of the ground:-(  Visions of the "Terra Nova" episode and "Ready Player One" have stuck in my head from the last day.  I'll douse those with another margarita, as I'm off to lunch…