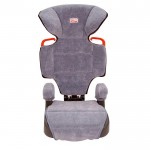 Skinny is back in demand – that is, if you're a carseat or booster.  Unfortunately, skinny is also hard to come by these days and that's a real problem.  In a time when Americans are downsizing their vehicles in droves –  increased laws and awareness are keeping more and more kids in CRs longer.  The combination of these two factors is creating a real space problem.  
We need more CRs that can fit in narrow seating positions and in those tricky 3-across situations.  Manufacturers need to work quickly to address this issue because if one more parent suggests removing the armrests on their Turbo booster to make it fit next to another CR – I'm going to lose my mind!
Here are some suggestions for all CR manufacturers.  Work on designing new, narrow seats and pay particular attention to how your various models fit/puzzle/mesh next to each other.  In the mean time, how about reviving some of those older designs that worked so well for us in the past?
Dorel – could you bring back the Touriva?  The Scenera just doesn't fit as well in tight spaces as the Touriva did.
Evenflo – how about dusting off the Right Fit mold?  The Big Kid and Amp models just aren't cutting it in smaller vehicles or narrow seating positions.  If you slap some snazzy covers on the Right Fit and keep it competitively priced, it'll be a hit  – I promise.  The contours of that particular design with the narrow back and the low, flared-out armrest/nubs made it fit well in narrow seating positions AND made it easy to buckle, even if it was next to another CR.
Graco – how about reviving the Ultra/Platinum Cargo?  The Nautilus and Argos are both great but not exactly 3-across friendly.  The Cargo was a harnessed seat that we could count on to fit in small spaces next to other seats.  Of course it would be even better if you could find a way to get it rated to 48 lbs with the harness like its Canadian sibling was.  It had the ideal top slot height but the 40 lbs weight max on the harness was limiting.
Britax – your original style Parkway, Monarch and FP Safe Voyage boosters all had "Best Bet" ratings from the IIHS!  Pretty please?  In particular, the width-adjustable bases on the less beefy models (Star Riser/Comfy and FP Safe Voyage booster) were AWESOME when you were trying to cram 3 CRs into the back of a small sedan.   Even the BodyGuard might be worthy of resurrection if you did away with those annoying lock-offs.  And although the Parkway was not width-adjustable it still worked well for a lot of people in narrow seating positions and 3-across situations because of the tapered shape and *lack of armrests*.
So, how about it?  I know all the molds for these seats are still hanging around somewhere collecting cobwebs.  It probably wouldn't take too much to start producing some of these CR models again just until some new slimmer designs could make it to market.  This trend of smaller, more fuel-efficient vehicles on the road and increased CPS awareness/legislation is only going to continue.
The industry has been very focused in the last few years on bigger and wider.  No doubt this is due to the the fact that American kids are getting bigger and wider not to mention they're staying in CRs for much longer than in the past.  Plus, there has been a strong, steady demand for higher-weight harness seats that can accommodate bigger/older children.  This is all well and good – but you can't focus exclusively on bigger and wider while simultaneously phasing out slimmer models.  Because if the bigger, wider seats don't fit in smaller vehicles – then what?  What do you think happens when a family of 5 trades in their Tahoe for an Accord?   And what happens at a check event when a car pulls in with 3 kids in the back of an old Corolla and all 3 need to be in seats?  My program can't afford to give away Radians so often the parents are forced to make those "tough choices".  Do you put a kid up front in a CR?  Let the oldest ride without a booster in back even though he clearly still needs one?  This is reality.  This is what we have to deal with at almost every check event just because we no longer have those affordable options like Tourivas and Cargos and Right Fits.
Manufacturers, you can help those of us in the trenches (and those who are personally in these predicaments) by meeting these challenges and making more small-vehicle-friendly seats.  We also desperately need more affordable options for our CPS programs that work in these tight situations.  Tourivas, Right Fits, a no-frills version of the Ultra Cargo and a permanent supply of reasonably priced Safe Voyage boosters would really, really help.  Right now the cupholder-less institutional version of the Maestro is my best friend but I don't care for it as a booster anymore since the little red belt guide hooks were added.  And one good, narrow, FF harnessed seat doesn't come close to solving all the space issues we run into.  I know we can't fix or solve every incompatibility that we encounter but this particular problem seems to have some possible solutions that are realistic and within reach.  I hope you'll agree.