My latest ride has been a change for me. I'm used to SUVs, vans, and the occasional car. The past couple of weeks, though, I've been driving a truck. Yep, a truck. Not a big ol' semi, but your average, run of the mill full-size pickup truck. Toyota decided it was time for America to have alternatives to its domestic truck line and introduced the Tundra in 2000 and it's now on its second generation. It's been an eye-opening experience driving the Tundra to say the least. Now I know how the other half live :D.
I'll let you in on a little secret of mine: I've always wanted a small truck. Back in my early teens, I had a crush on a guy who drove a Nissan truck
with wheels that made it look more sporty and less utilitarian.  For many years, I wanted that truck: it represented freedom and a really good-looking guy. Then when dh and I were looking to replace a car in our mid-20's, we looked at small pickups. What's more perfect for 2 people who occasionally needed to haul stuff around? We eventually settled on the RAV4, but trucks have always had an appeal to me. But who'd-a-thunk that *I* would be driving a truck. Really! I'm definitely more Ritz Carlton than camper. I did get a kick out of the brochure: it's very much geared toward the male half of our species. Even one page of the Tundra website declares: "If you want to blend in, the TRD Sport Special Edition Tundra ain't for you."
Iterations of the Tundra
There are 3 cab versions of the Tundra: regular cab, double cab, and crewmax with mileage ranging from 15-16 mpg city/20 mpg highway depending on the version. All trucks come in either two- or four-wheel drive and with a 4.0L V6, a 4.6L V8, or a 5.7L V8. The regular cab and double cab are available with either standard (6.5 ft.) or long beds (8.1 ft.). The Tundra I drove was a double cab with on-demand four-wheel drive and a roaring 5.7L V8 engine that makes my MDX sound like a kitten upon startup. Packages include the SR5 package, the work truck package, and the TRD package. The options are quite dizzying: it's typical Toyota, though, to offer so many options you're not sure where to begin.
I am going out on a limb here and assuming that most folks who want a large truck like the Tundra will be using it for work purposes. The Tundra I drove has a maximum payload of 1640 lbs. with a towing capacity of 7800 lbs. We put that payload to the test by hauling home a new toilet and tree branch cutter from the Home Depot. Glamorous, I know ;).
Safety Features
Star Safety System: Standard on every Tundra is a combination of five features that help you control the truck in difficult driving conditions.  1. Vehicle Stability Control counteracts wheelslip during turns by reducing engine power and applying the brakes to individual wheels, 2. Four-wheel Anti-lock Brake System avoids wheel lockup during hard braking or slippery conditions, 3. Electronic Brake-force Distribution optimizes the amount of braking force sent to each wheel during braking, 4. Brake Assist applies extra force so enough pressure is put on the system to engage the ABS, and 5. Smart Stop Technology which reduces engine power when both the brake and accelerator pedals are pressed at the same time (so get out of that driving-with-the-brake-pedal-on habit!).
Trailer Sway Control: When the system detects trailer sway, it automatically applies brake pressure and controls the engine torque. It applies the brake lights at the same time to let drivers behind you know that you're slowing.
Airbags: It has airbags everywhere.  There are curtain airbags all around, torso airbags for the front seats, and knee airbags for the driver and passenger(!) for all models.
Seat belt pretensioners: The seat belt pretensioners are for the front seats only.
Backup camera and sonar: Optional equipment that I highly recommend is the rear-view mirror backup camera and the sonar sensors on the bumpers. Even though the backup camera screen is integrated into the rear-view mirror (having a large in-dash screen is much more desirable), it's still an important safety tool. This is a big truck! It's hard to see obstacles, especially when parking or backing up and the backup camera gives you eyes to see behind you. The sonar sensors are useful as well, especially when in parking lots.
NHTSA 5-Star crash test ratings
Two-wheel Drive Double Cab: 4 frontal, 5 side, 3 rollover
The two-wheel drive double cab was the only model tested for side impacts. For an explanation of the new 5-Star crash test rating system, see Kecia's excellent blog about it from October 2010.
G for frontal offset, side impact, roof strength
Rear crash protection/head restraint: G for overall rating, dynamic rating, and seat/head restraint geometry
These ratings earned the Tundra a place on the IIHS Top Safety Pick list, a nice honor.
Niceties
Cubbies, cubbies, everywhere!  Storage storage and more storage!  Toyota really excels at providing storage space inside its vehicles and the Tundra is no exception. There's a place to stash all your stuff: spots for pencils, business cards, hanging folders, and even tissues!
Lots of room. This is a big truck!
Large, easy-to-read gauges: There's simplicity in the layout of the bright gauges behind the steering wheel. At night, the gauges light up in orange light.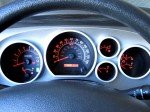 Driving Experience
There's definitely a difference between driving a SUV/car and driving a truck. The Tundra is big: the regular cab is 9" longer than the Sienna and 2" wider. The model I drove, the double cab, is 28" longer and 2" wider than the Sienna. There were several times I pulled into a parking spot and required fine tuning, much to the chagrin of my children. I was definitely thankful for the sonar and backup camera!
Besides the overall size difference, there's the feel of driving a truck. It's rough-ish and there's a lot of sway in turning corners. Driving on a cement freeway was bumpy and noisy. The powerful engine was responsive and the steering was accurate. It does take a bit of practice to start up smoothly from a stop; it's a bit jerky when accelerating from a stop. While it's not my cup of tea, I can see the appeal of having a big truck: lots of room for road trips while still providing excellent storage and towing options.
Child Passenger Safety Techs Do Their Best Work in the Back Seat
It's the true CPS Tech who can perch on the edge of the door frame while securing a carseat! Because of the full-size backseat, I didn't have any space issues and a 3-across is very doable. The regular cab Tundra has an airbag off switch so a child restraint can be installed in the front passenger seat. It also has LATCH in that location. In the bigger trucks, there are LATCH locations on the outboard seats only, with a center tether anchor. There's so much room in the rear seat that I'm surprised Toyota didn't spring for another set of lower LATCH anchors for the middle seating position.
Because it's the middle of summer and I was hanging off the edge of the truck while installing the carseat, lol, I only installed one harnessed carseat: the Maxi-Cosi Pria. I didn't have any problems installing the restraint either rear-facing or forward-facing, using LATCH or the seatbelt. For folks with Britax or Sunshine Kids (Diono) convertibles, or the Combi Coccoro, finding a rear-facing tether anchor point is easy. You can either remove the plastic casing over the front seat leg or slide the tether connector strap (aka d-ring) underneath. My kids rode in booster seats; even though my oldest passes the 5-step test in the truck (he's 5'1" and close to 80 lbs.), the lap belt fit on him was horrible. The buckle stalks in the back seat are long, which contributed to the poor belt fit, and may need to be twisted up to 3 full twists, depending on the restraint installed.
The forward-facing tether anchors are located behind each of the seating positions where a restraint can be installed. In the regular and crewmax cabs, the tether anchors are located on the back wall; the vehicle seatback must be pulled forward to access the anchors in the crewmax cab . In the double cab, tethers are routed through loops to the seating position directly next to where the restraint is installed.
Entertainment
An available DVD entertainment system allows you to play instructional videos to your crew on the way to the worksite. OK, really? Throw in a Disney DVD and your kids will love you for life. Or at least until you arrive at your destination. But who really cares about the kids when you have the power thigh support under your legs?
Yep, It's A Truck
If you're looking for a truck that can haul tons and your family too with lots of top safety features, the Tundra should be high on your list. Toyota comes through again with usable features and a truck that garners high safety marks. According to my dh, the ride is comparable to our friend's Ford F150, so the fact that it "drives like a truck" isn't necessarily a bad thing :D. Child restraints are easy to install and there's plenty of room for them in the back seat.
You can learn more about the Tundra at the Toyota website and download brochures as well. For pricing information, we recommend CarsDirect.com
.
Our van was supplied to us by the Walker Agency, courtesy of Toyota USA.