Whenever we go to conferences or trade shows, there's always a lot to drool over at the Cybex booth. Their offerings always look sleek, incorporate innovative features, and show great attention to detail. When we saw the Cybex Solution Q-Fix booster at the ABC Expo last fall, we couldn't wait to get our hands on one.
Specifications/Features:
For use with children 3 years or older
33-110 lbs, 38-60 inches tall
Highback only (cannot be used as a backless booster)
Three-position reclining headrest
Height and width adjustable (shoulder width expands as seat height is raised)
Linear Side-Impact protection features (see below)
Thick energy-absorbing EPS foam
Rigid lower LATCH anchor attachments
7 year lifespan
Specs for high-back boosters typically don't vary a whole lot, but one thing that makes the Q-Fix stand out is the 60″ height limit. Many boosters cap their height limit at 57″ (4'9″) but some kids still need a bit of a boost beyond that point, so it's nice to have an option that doesn't require a parent to ignore manufacturer instructions. Those last few inches can make a big difference!
The Q-Fix is currently available in 5 fashions: Charcoal, Autumn Gold, Ocean, Storm Cloud & Lollipop.
Solution Q-Fix Measurements:
Lowest belt guide height: 14″
Highest belt guide height: 21″
Overall seat height: 31″
External width, back of base: 13″
External width at armrests: 18″
External width at widest point: 20-22″
Internal width at shoulders: 14-15″
Seating depth: 13″
Weight: 17 lbs.
The other features that really set the Q-Fix apart from competitors are the side impact protection and reclining headrest.
The Q-Fix looks like something out of a sci-fi movie, in part because of the massive wings and things toward the top. Besides the impressive head and shoulder wings, the Q-Fix also has Linear Side Protection bolsters that attach to the outside of the seat. In a side impact, these bolsters can help absorb crash forces. The bolsters come separate in the box, but they're easy to snap into place.
The head and shoulder wings are lined with thick EPS foam to help absorb energy, too.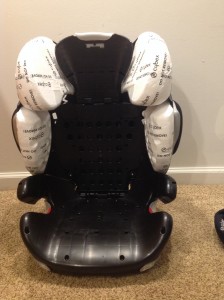 The reclining headrest is a great feature, especially for kids who tend to fall asleep in the car. To move the headrest into any of the three positions (upright, reclined, and in-between), simply pull up and move the headrest forward or backward. Besides adding comfort for the child, the headrest actually serves a safety benefit, too. A child whose head bobs forward is at greater risk of injury and won't benefit from the side-impact protection. Being able to rest their heads backward to sleep encourages them to stay in position.
The recline amount isn't huge, but it should make a difference for kids who are, say, reading versus napping. Below you can see the most upright and most relined positions from above and from the side.
Another neat thing about the Solution Q-Fix is that the seat adjusts outward as you adjust it higher, allowing for more shoulder room for bigger, taller kids.
The ability to use lower LATCH anchors has become a big selling point for parents in the market for booster seats. LATCHing boosters keeps them from becoming projectiles when unoccupied, and it might also provide some safety benefits. The Q-Fix features rigid LATCH (meaning no straps to pull) but its use is optional.
It should be noted that although the Q-Fix comes apart, it is only meant to be used as a high-back booster, never as a backless booster.