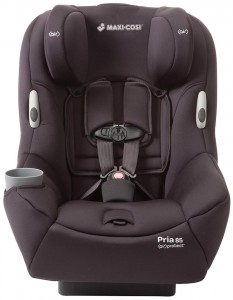 Maxi-Cosi is Europe's most popular brand of premium carseats. Even though the Maxi-Cosi carseats sold here in the U.S. are not the same seats that are sold in Europe (due to different standards and regulations), American parents are embracing the brand and everything that it stands for – safety, comfort and style.
Let's clarify that there are three different models of the Maxi-Cosi Pria convertible that are currently available. Four, if you count the less expensive Maxi-Cosi Vello 65 model which is similar but lacks some of the features found on the various Pria models.
Differences between Pria 70 & Pria 85 models: Both models have no re-thread harness; deep head wings with Air Protect technology for enhanced side-impact protection; push-on LATCH connectors; 3 position base and integrated cup holder. Pria 70 and Pria 85 models share the same shell but have different minimum and maximum weight limits. Both seats have Air Protect cushions on the headwings but the shape of those cushions are different. Pria 85 model offers harness holders, a cover that is easier to remove and both machine washable and dryer safe.
Pictured below Pria 70 (left) & Pria 85 (right)
Pria 85 Specs:
Rear-facing: 5-40 lbs., 40″ or less, top of child's head must be below top of the headrest
Forward-facing:  22-85 lbs., at least 1 year old, up to 52″ tall
Pria 85 Features:
No-rethread harness with 9 height positions
Air Protect® technology for enhanced side-impact protection
3-position base
Premium push-on LATCH connectors
Harness holder clips (hold harness out of the way while loading and unloading)
Easy to remove cover is both machine washable & dryer safe
Premium fabrics
Separate harness strap covers for kids over 65 lbs. (only required if seat is NOT tethered)
Integrated cup holder
FAA approved for use in aircraft
10 year lifespan before expiration