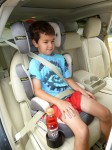 The Graco Highback TurboBooster featuring Safety Surround is the latest variant of the very popular Turbo high back booster.  It is designed to fit children from 30-100 pounds in high back mode and from 40-100 pounds when converted to backless mode.  The main difference from the regular Turbo high back booster is the addition of Safety Surround.  This provides deeper side impact protection wings around the head and torso compared to the standard TurboBooster.  Otherwise, the new TurboBooster is very similar in dimensions as the standard model.  For example, it has the same maximum height in high back mode, so the tallest kids may have to use it in backless mode without the side impact protection until they pass the 5-step test.
This model also retains the other standard features, including two handy hide-away cup holders and height adjustable head restraint and arm rests.  A screw must still be removed to adjust each armrest, but unlike the standard highback model, the screws come pre-installed in a fully-assembled backless section.  Only the back needs to be attached out-of-the-box.  The original TurboBooster has been around for so long and has been so popular, there's simply not much to add.  Newer versions of the original model have been updated to perform well in the IIHS booster testing and I would expect the Safety Surround version to do so as well.
The Graco TurboBooster with Safety Surround is available at Target in four colors shown below, Dahlia, Pearson, Rush and Harrington.  Like other Graco carseats, it is tested to meet or exceed all US standards in addition to the draft European side impact standard and Graco's own side impact standards.