Since we now have two well-received 3-in-1 (aka All-in-One) carseat models on the market, I thought it would be fun and informative to have a little friendly competition between them. Hence the 3-in-1 throwdown! Seats will be judged on ease of installation, ease of use, comfort, realistic usage range, lifespan, features and pros & cons.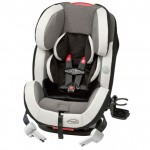 Evenflo Symphony 65 – see our full review of the Symphony 65 "e3″ model HERE
There are 2 different Symphony models.  The premium Symphony DLX (aka e3 model) has deeper head wings for enhanced side-impact protection and SureLATCH connectors (pictured right) and the lower price point Symphony 65 LX model has head wings that are more shallow and typical push-on style LATCH connectors instead.
Ease of Installation – Evenflo's SureLATCH self-ratcheting lower LATCH connectors will likely be very helpful to the average carseat consumer who struggles to achieve an acceptably tight installation. However, due to numerous carseat/vehicle compatibility variables, the self-ratcheting connectors don't always work as well as intended. It's definitely not a fool-proof installation system in every vehicle. Still, SureLATCH is an innovative feature that is bound to make proper installation easier in many vehicles. If you're not interested in the self-ratcheting SureLATCH connectors, the new DLX model offers premium push-on lower LATCH connectors instead.  Overall, the Symphony 65 is relatively easy to install both rear-facing and forward-facing with either LATCH or seatbelt.  I personally like the X-style LATCH attachment straps which makes switching the LATCH connectors from the rear-facing beltpath to the forward-facing beltpath clear and straight-forward.