Trivia question: Without Googling it, who knows what "CR-V" stands for?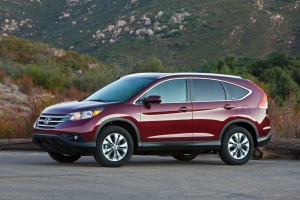 All-new fourth generation Honda CR-V is an impressive ride. It's an ideal vehicle for those who want the function and flexibility of an SUV but without the size or the price. In fact, if I didn't have three children, I'd strongly consider one as my next vehicle purchase. The peppy 2012 CR-V is a five-passenger vehicle that starts at under $25,000. And one of the nice things about Honda is that they believe that you shouldn't have to buy the luxury model to get the options that make a vehicle functional – many of the items that people really want are standard on all trim levels, such as a multi-angle rearview camera and hands-free Bluetooth. Notable exceptions are the navigation system, leather seats, DVD entertainment system for the rear seat, and driver's seat with 10-way power adjustment, all of which are available only on the EX-L model.
I rode in a 2011 CR-V right after my extended test drive of the 2012 model, and here are some of the things that I noticed right away: The seats in the 2012 are noticeably more comfortable, the center console is greatly improved, and steering and brakes in the 2012 are more responsive. I'm not sure what trim level the 2011 was, but the 2012 just felt more luxurious.