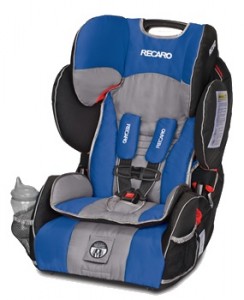 When my daughter turned 4 in March, I let her start riding forward-facing in the car even though she technically still fit rear-facing in a few of the convertible seats we owned. Thanks to trusted friends with trusted seats to lend, plus some reviews CarseatBlog needed, we've been able to try out just about every forward-facing combination seat out there. I'll admit that by the time we got to the Recaro Performance SPORT, I was a little burned out on trying new seats, and I wasn't optimistic it would do anything to wow me. Boy was I wrong!
The Performance SPORT is similar to the discontinued Recaro ProSport model but has some nice updated features, which I'll get to in a minute. You can also read our review of the original ProSport here.
First, the Performance SPORT stats:
Height/weight range harness: 27-50″ and 20-90 lbs (and at least 1 year old)
Height/weight range booster: 37-59″ and 30-120 lbs
Widest exterior measurement: 19″ (at torso wings)
Narrowest part of base: 11.25″ (at very back)
Widest part of base: 17″ (toward front)
Seat back: 27″
Seat depth: 14″
Crotch strap positions: 6″, 7″, 8″
Seated Shoulder Height Measurements:
Lowest harness height (of 4): 12″
Highest harness height (of 4): 18″
Highest booster height: 20″
The Performance SPORT features seatback and harness heights similar to many other combination seats on the market, with four harness height positions, the highest of which is about 18″ tall. There are some seats with higher top slots, but 18″ should be sufficient to get most kids to the point where they are big enough and mature enough to safely transition to booster mode on this seat.
How is the Performance SPORT improved from the previous ProSport model? It features a quick-flip recline mechanism, a HERO system to help keep the harness from twisting (more on this in a bit), memory foam for comfort, and temperature-balancing fabrics.
The Performance SPORT feature side-impact protection (tested to European standards), premium push-on LATCH connectors, a no-rethread harness, and EPS foam.