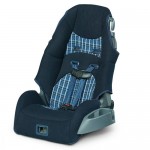 I've decided to document how various combination (harness/booster) seats fit my 4-year-old, 41 lb, 43″ tall son in booster mode.  He's at the size where most parents would be switching from the 5-pt harness to the vehicle's lap/shoulder belt in booster mode if they had a combination seat with a 40 lb limit on the harness.  In each case I'll use the same seating position in my van – driver's side captain's chair in a 2005 Ford Freestar.     
The IIHS booster study compared the fit of various boosters using the 6-year-old Hybrid lll dummy who weighs 51.6 lbs (23.41 kg) and has a standing height of almost 45″.  I thought it would be even better to show belt fit on a child who was just over the 40 lb weight limit for the 5-pt harness.  I've decided to focus exclusively on combination seats because of their popularity.
This week we're back to Dorel (Cosco, Safety 1st, Eddie Bauer) and we'll be looking at the

Cosco High Back Booster with harness.  There have been many varia
tions of this seat sold over the last 10 years and it's still widely available today in places like Walmart, Target and BRU.  Recently, I've noticed that these seats are being sold in clear plastic, zippered bags instead of traditional cardboard boxes.  There have been many different model names over the years.  Often this seat was sold without the harness (as just a booster) with names like Complete Voyager and Vista.   I think it's safe to assume that there are millions of these seats being used by children all over America today.  Let's see how this model stacks up as a booster….