While convertible carseats can be used rear-facing for babies and toddlers, only a few models are suitable for newborns. The benefit of finding one of these is that you can save some money by skipping an infant carrier altogether. Of course, the downside is that you lose the convenience of simply clicking the carrier into the base when leaving and simply removing it to bring inside when you arrive. What many parents don't realize is that some convertibles also take up less room in the back seat when installed rear-facing, compared to the average infant carrier plus base. This means more legroom for mom or dad up front, especially in a small car or compact SUV.
So, here's a look at a handful of models we feel are worth trying if you are looking to use a convertible from birth AND want to maximize the legroom for the driver and front passenger as well. We've sorted through a wide array of convertibles that not only have harness systems that should fit a newborn, but are also smaller in size or, for larger models, performed well in our survey of convertibles that fit in tight spaces. Some provide even more legroom up front when installed more upright for older rear-facing kids!
Keep in mind that even though a convertible may be rated from 5-70 pounds does not mean it will actually fit a 5-pound newborn or a typical 70-pound child. Many convertibles don't even fit an average 7-pound newborn well, despite their claimed minimum weight rating of 5 pounds. Even models rated up to 65- or 70-pounds are likely to be outgrown by height well before that weight limit is reached.
1) Combi Coccoro  Perhaps the ultimate for convertible carseats to fit small spaces and tiny babies.  It is rated from 3 pounds, so it is also great for multiples and low birthweight infants!  Plus, its small size means you have a better chance to fit it next to another Coccoro for twins or triplets in the back seat.  The downside?  That space you gain is precisely because it is a smaller seat.  The tradeoff is that it will be outgrown much faster by height and weight (33 lbs., 36″ tall rear-facing limits) than the average convertible. It also offers a tether that can be used rear-facing to prevent rebound.  It is one of our Recommended Carseats and you can find our full review of the Combi Coccoro here.  (Retails for around $180 at Amazon).
2) Maxi-Cosi Pria 70 with Tiny Fit  The Pria (model with the TinyFit insert system) is one of the best convertibles for preemies and low birthweight infants. It fits tiny babies as low as 4 pounds with the TinyFit insert. The Pria isn't as compact as the Coccoro in terms of extra legroom for front seat passengers when installed for a newborn, but it is a top performer later. For rear-facing toddlers that prefer to be seated more upright, we found that the Pria installed in the semi-reclined #2 position offers a lot of extra space for those in the front seat. For all that you do pay a premium, though. Check out our full review of the Maxi-Cosi Pria 70 and it is also one of our Recommended Carseats. (Pria model with TinyFit retails for around $289 at Amazon).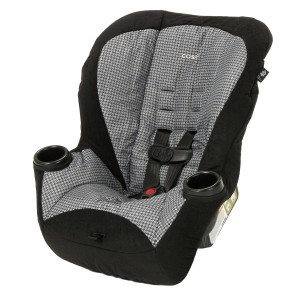 3) Cosco Apt 40 RF  This is the budget-friendly choice for under $60 at Diapers.com, Babies R Us or K-Mart. While it isn't rated for preemies under 5 pounds like the Coccoro or Pria with TinyFit, it should fit most full term newborns very well with its 5″ bottom harness slots and 3″ shortest buckle strap slot. This is a very basic seat with few deluxe features. Like the Coccoro, it is also a smaller seat with a 40-pound weight limit (rear-facing and forward-facing), so it will be outgrown faster than the average higher-weight convertible. You can find our full review of the Cosco Apt here.  (Retails for as low as $50 on sale at Babies R Us).
4) Chicco NextFit  The NextFit is another great model overall for small babies in small cars.  It's rated from 5-40 pounds rear-facing and has very low bottom harness slots to help fit even small newborns quite well.  The fact that it allows for a range of recline positions to be used when installed also helps this seat to fit well in smaller back seats. Of all the seats on this list, it is arguably the best choice for extended rear-facing and forward-facing, as it adjusts slightly taller than other models here. It installs very easily with LATCH thanks to its unique "SuperCinch" force-multiplying system. It's also somewhat expensive for all its great features.  Check out our full review of the Chicco Nextfit. (Retails for $279 on Amazon).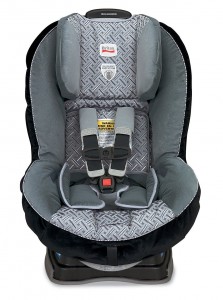 5) Britax "G4″ Convertibles. All 2014 Britax convertibles ("G4″ models) include a new infant insert that is mandatory for babies less than 22 lbs. This new insert helps newborns get a proper fit from the harness. These convertibles are smaller than some other higher-weight convertibles on the market today, meaning that they also tend to take up a lot less space when installed rear-facing. While the Britax convertibles will last much longer rear-facing than the Combi Coccoro, they won't last as long as the Chicco NextFit or Maxi-Cosi Pria with TinyFit, due to shorter height limitations. If you have LATCH, the Britax convertibles offer very easy installation. Like the Coccoro, they have a tether that can also be used rear-facing to prevent rebound.  These models are on our Recommended Carseats List and we have a full review of the new Britax Advocate G4 . (Retails starting near $160 for the Britax Roundabout up to  $279 for the Britax Advocate, with the Marathon, Boulevard and Pavilion models in between)